CHANCE TO GO BEHIND THE SCENES OF 20 OF THE WORLD'S GREATEST MUSEUMS FOR VISITORS TO 'FINE ARTS PARIS' FAIR -FROM NOVEMBER 13 - 17
FINE ARTS PARIS HAS CREATED FINE ARTS WEEK
A unique access to the most secret, treasured and well guarded spaces in Paris museums in partnership with 20 museums included The Louvre, Petit Palais, Château de Versailles, Musée d'Orsay.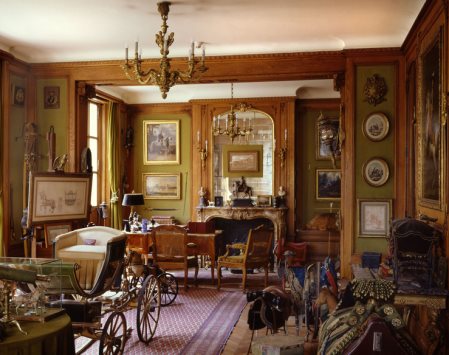 The hidden collection of Émile Hermès (1871-1951), devoted to horses and travel.
The 2019 'FINE ARTS PARIS' fair which runs from November 13-17 at Carrousel du Louvre in Paris, aims at bringing a new fresh focus to painting, sculpture and drawings and this year adds tapestry and archaeology to the line-up. The fair strives to create synergy between museums, the art market, researchers, art lovers and collectors. It offers access to some of the French capital's most guarded and secret spaces, behind the scenes at major and smaller museums providing a once-in-a-lifetime opportunity to see things that have not been on public view in these treasure houses for decades.
The fair that is reviving the Fine Arts
From 13 to 17 November 2019, the eyes of all art lovers and curators will be fixed on FINE ARTS PARIS, whose third edition promises great things. The art fair, which was founded by the organizers of the Salon du Dessin, will have 46 exhibitors this year, including 10 new galleries from Paris and outside of France.
This year's fair welcomes new areas of expertise with the addition of the galleries Gilgamesh (Paris) and Cahn International (Basel), specialists in archaeology, and the tapestry experts from the gallery Chevalier (Paris). The Old Masters painting section will be strengthened by the arrival of Rafael Valls (London), Charles Beddington (London) and G. Sarti (Paris), while Modern Art will be reinforced by the return of the Brame & Lorenceau (Paris) and the addition of new dealers like M.F. Toninelli Art Moderne (Monaco) and Taménaga (Paris/Tokyo).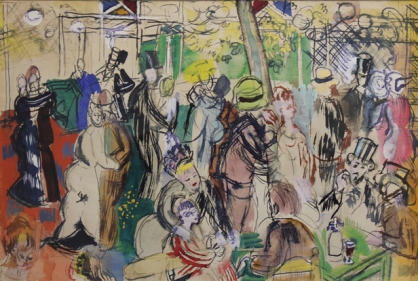 Raoul Dufy (1877 - 1953), Le Moulin de la Galette, 1942, Watercolour and ink, 28 x 46 cm. / Galerie Taménaga
In addition to attracting new exhibitors, FINE ARTS PARIS is also developing its cultural program. A museum-quality exhibition, to be presented at the fair by La Piscine–Musée d'Art et d'Industrie André Diligent in Roubaix, France, will sum up the spirit of the museum with a selection from its collection.
And that's not all: Italian street artist Andrea Ravo Mattoni, who uses contemporary techniques to recreate masterpieces from the past on buildings around the world, will perform at the fair on Thursday, November 14. He will paint a 3 x 2 meters canvas based on a work by Luca Giordano on the occasion of the opening of an exhibition of the artist's work at the Petit Palais.
Behind the scenes - not normally open to public:
During Fine Arts Week, which is organized by the fair, visitors will have a chance to discover private collections like the hidden collection of Émile Hermès (1871-1951), devoted to horses and travel, which is still displayed as it was in his time and contains everything from travel kits to systems canes, goat carts, saddles and stirrups, amazon slippers and a horse tricycle. Among the paintings on the walls are works by Alfred de Dreux, Eugène Lami and Carle Vernet. The collection is housed in what was once the office of the third president of Hermès on Rue du Faubourg Saint-Honoré in Paris. (see image above).
Visitors will also have the chance to visit the largest collection of public sculpture in France. COARC (Conservation of Religious and Civil Works of Art) is in charge of the City of Paris's sculpted heritage. Over 2,000 original plasters are kept in Ivry (very close to Paris) in the industrial setting of a former machinery room in a disused water-treatment plant.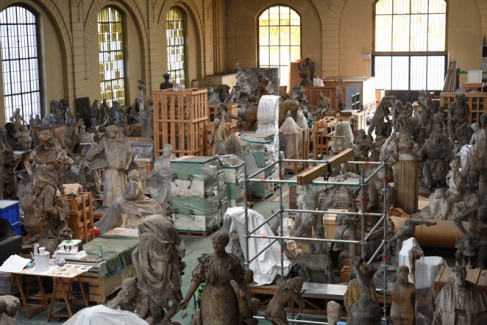 Conservation of Religious and Civil Works of Art in a disused water plant at Ivry near Paris
The Château de Fontainebleau will offer a visit to a painting gallery with a new hang that is currently closed to the public. Visitors to Fine Arts Week will not only be the first to see it, but will also be shown the museum's latest acquisition, the painting Minerva Beautifies Ulysses, a very rare example of a School of Fontainebleau painting representing the decor of the Ulysses gallery.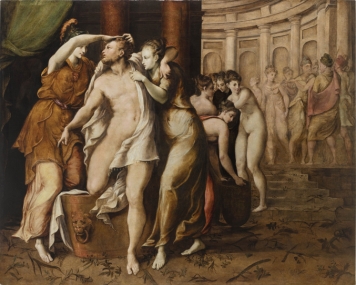 Painting Minerva Beautifies Ulysses at Château de Fontainebleau
Fine Arts Week offer unique experiences to visitors.
For example, the home and studio of Chana Orloff, designed by architect Auguste Perret in Paris, will offer visitors a chance to not only see but also touch the sculptures. Participants will be invited to express their reactions.
"FINE ARTS PARIS is not just a fair," says Louis de Bayser, Fine Arts Paris president. "It is also a multidisciplinary get-together where ideas can circulate. We want to open the fair to what's happening in museums, show the world what a great cultural showcase Paris is and make connections between various art world players."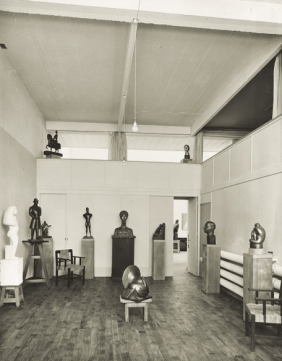 Chana Orloff's studio, circa 1930. Photo: Ph. Chevolon
Press comment:
"An elegant, unmissable art fair" is a phrase often used by journalists to describe FINE ARTS PARIS. The Art Newspaper France said: "This fair makes Paris an essential place to visit in contrast to the panorama of Anglo-Saxon bastions" "It's rare to see so many beautiful pieces in a living room" Challenges
"Fine Arts Paris rises in volume" The Daily Art
"Elegance and sophistication for the 2nd edition of Fine Arts Paris at the Carrousel du Louvre" Agence France Presse.
Press Kit :https-//www.art-et-communic#9DB